Pcrm.info Review:
PCRM: Physicians Committee for Responsible Medicine
- The Physicians Committee for Responsible Medicine (PCRM) is a nonprofit organization that promotes preventive medicine, conducts clinical research, and encourages higher standards for ethics and effectiveness in research.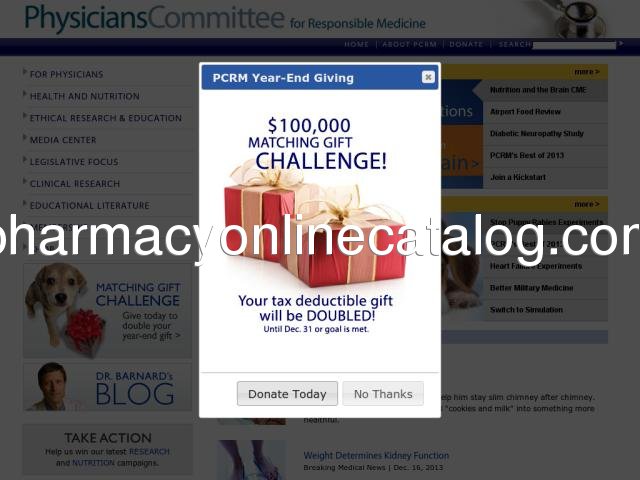 Country: North America, US, United States
yolanda - Scariest of the series

I love this series. I don't know how I am going to survive until the next installment. There is something about Perry, Dex and a school that is haunted by dead children that really did it for me. Personally, I think this one of the scariest books in the EIT series. Oh, and the end.....not going to tell you what happens (although I do love my spoilers) but it is a must read. Also, if you are in a steamy mood this book will not disappoint. There were definitely some scenes where I was fanning myself. Once again this was another great read by Karina Halle
Jeanne Lee - well used book

I used this book daily when taking triage calls as a nurse; easy to use and understand quickly when researching drugs people take
Daphne Jones - A story of hope in the face of hopelessness

This might be the best novel of the apocalypse ever written. It's easily the best I've ever read.

The world is dying in the wake of a nuclear winter, and there's no hope for humanity -- let alone any other species of plant or animal. With virtually no natural food source to be found, the few remaining survivors are either loners, perpetually starving and living off an increasingly small supply of scavenged canned goods ... or they're packs of cannibals, rapists, and murderers living off the flesh of other survivors.

It's a bleak, brutal, horrible world, and we're thrust into it with the very personal story of a father and son traveling along a road in hope of nothing so much as ... hope. Hope that somewhere out there, somehow, impossibly, there's something better.

Through sheer will and impressive literary skill, McCarthy crafts this depressing, sobering, minimalist tale into a story of love and faith. The bond between a father and son here is a love story all parents can understand. And the ending -- well, it's not a "happy" ending but neither is it the devastating one you might expect. It's ultimately a story of hope in the face of hopelessness.

The Road gets better with subsequent readings. I highly recommend it. Read it once, quickly, to see how it ends, and then read it again to fully appreciate how it was constructed. It's a masterpiece.