I-diet.org Review:
Phentermine, Viagra, Adipex, and other prescription medications Online Pharmacy | i-diet.org Rx
- i-diet.orgis your online source for Phentermine, Adipex-P, Meridia, Xenical, and other prescription medications.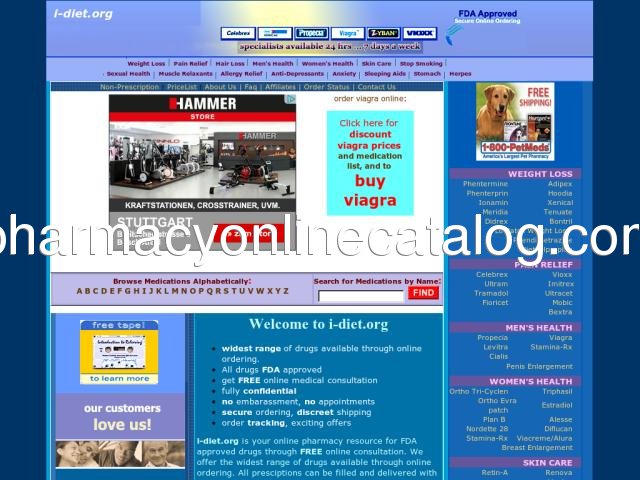 Country: North America, US, United States
City: 75244 Dallas, Texas
LadyBudd - I'm a fan of Rand Mcnally atlasesEven though I have a GPS and a smartphone, sometimes you just gotta have a map. Rand Mcnally always delivers. I did not get the spiral bound, but the stapled version I have performs well. The maps are crisp and detailed. There are sections on the Best Small towns in America, numbers/websites for road information in each state and province, phone numbers for hotel chains and rental cars, and a mileage chart for distances between 90 North American cities and national parks. Also a map of distances and driving times between hundreds of cities and national parks. I've used various editions of this atlas for over 30 years and have always found it to be a helpful travel companion on the road.
L. Cowart - Just like everyone else..If you could only get one book that provided info on getting into medical school, this is it. It is the de facto guide from getting into an osteopathic school.
Admiral2525 - Perfect for travellers looking for excellent image qualities and a lighter packageI used film cameras starting from the 1990s, switched to prosumer DC in 2003, and used DSLR for several years. In Jan 2011, I sold the DSLR and its two lenses, and decided to go mirrorless, finally settling on m43 and the Olympus PEN E-PL2. I was so satisfied with it that before my 19-day Switzerland family trip in August 2011, I purchased the E-P3 and relegated the E-PL2 to a backup camera. After my trip, I sold the E-PL2 since the E-P3 was much better in some critical areas and I did not need a backup when I would not be on any long trip in the near future.

Although images from the DSLR were very good, a major problem was that the DSLR gear was way too heavy. I took a lot of photos while travelling, much more than when staying in my home city. As a small man, it was a pain to carry the DSLR around, especially hiking with a backpack full of other essentials. A smaller and lighter camera with good image quality, suitable for long trips, was thus my prime concern. Before deciding on m43, I considered several mirrorless systems and different camera bodies.

(A) Sony NEX
The main problem with NEX is the lenses, not the camera bodies. Auto focusing is a must for me and there are too few native NEX lens choices at present, which is important when committing to a system. The existing NEX lenses are either optically slow and big, or smaller but having mediocre optical quality. There is not any good fast prime. The NEX may become more attractive in future, but not now. The small and thin NEX cameras with the big lens mounted are a bit unbalanced in my hand and look extremely ugly. The major advantage of NEX is its best-of-class image sensor. However, such advantage is somewhat negated by the lack of good fast lenses. The overall body plus lens package is larger and heavier than the m43 equivalent, and does not provide better image quality due to the less than satisfactory lenses.

(B) Samsung NX
I am a bit worried about the future of NX, as it seems not so popular. The existing lenses are better than those of NEX but the sensor seems even worse than that of the smaller m43. The overall package, like that of NEX, is somewhat bigger and heavier than m43, and does not provide better image quality.

(C) m43 - Olympus and Panasonic
m43 seems to offer the best balance between image quality and size/weight (body and lens). On one hand, the sensors are not as good as NEX. On the other hand, there are many lenses - good zoom lens and excellent fast primes such as the Panasonic 20mm f/1.7 or the newer Olympus 12mm f/2.0 and Olympus 45mm f/1.8 (the latter two not yet announced at the time of my decision on m43). The comparable zoom lenses are so much smaller and lighter than the NEX ones and are much more balanced on the m43 camera bodies. There are also many, if not too many, m43 camera bodies to choose from. Among the m43 bodies, the Olympus ones have built-in body image stabilization (IBIS), usually giving two to three stops of advantage at low shutter speed. Olympus is also famous for the superb out of camera JPEG images. As Panasonic bodies do not have IBIS and not all m43 lens has lens-based image stabilization, finally I settled on the Olympus (kit lens for general use), and added the Panasonic 20mm (for low light and indoor) and the tiny Olympus 9-18mm f/4.0-5.6 (for landscape and confined areas). These were the lenses that I took to Switzerland, much of the time hiking in the Alps. The E-P3 and the 3 lenses weighed less than the previous DSLR with just the kit zoom, and covered more optical range. With an Olympus body and the Panasonic 20mm f1.7, the combination of IBIS and f1.7 is more than enough to offset any sensor disadvantage against a NEX in low light situations (such as in a museum, restaurant, or church), since much lower ISO values can be used.

My feeling and experience with the E-P3 (and m43).

Good:

(1) Image quality comparable to DSLR and much better than prosumer DC or point-and-shoot.

(2) Excellent straight out-of-camera JPEG images with pleasing colours, no need for post-processing, suitable for persons like me who do not want to spend time on post-processing (BTW, I took 2800+ images in Switzerland with the E-P3 and cannot imagine the time required to post-process even a fifth of them).

(3) Much lighter and smaller than a DSLR, even with the couple of additional lenses (I prefer light and small lenses with good optical quality).

(4) Best balance between image quality and size/weight, IMHO the perfect camera for travellers.

(5) Very responsive and quick reactions, extremely fast and accurate auto-focusing in good light (faster than my older DSLR), rarely miss a shot due to sluggishness; simply a pleasure to take photos with it (the E-P3 is much more responsive and much faster in focusing than the E-PL2).

(6) Using the touch screen to set a focus point or to take a snapshot with a single touch (no such features on E-PL2) is very useful and user-friendly, no need to use the pre-focus then recompose method or other cumbersome method to specify the exact focus point.

(7) Feeling right, very balanced and comfortable in my smaller than average hands; although some may find the 4-way circular control wheel too small for their bigger hands.

(8) Well-built, good finishing, metal body shell and sturdy feel.

(9) Lots of customization options making it very user friendly to the more advanced photographers.

(10) Very handsome camera indeed, especially the silver version and cannot find anything equally attractive.

Not so Good:

(1) A bit expensive, the E-PL3 or E-PM1 (both not yet in stock when I purchased the E-P3 in early August) should be better value for money but those do not have the touch screen features and have fewer direct control buttons; a real dilemma. When E-P3's price drops, it will become less of a disadvantage.

(2) The OLED LCD is not very colour-accurate, and the images look better when printed or shown on a computer's monitor. [Update: This one can be fixed by setting the LCD to 'Natural' instead of the default 'Vivid' mode; one of the default settings related issues mentioned below.]

(3) The OLED LCD is a bit difficult to see under bright sun light (E-P3 is not alone, actually problem exists with most camera's LCD) and cannot be tilted or turned; and the optional electronic viewfinder costs extra money (so I do not have one).

(4) The high ISO images for sure can be better with a better sensor; but not a problem for landscapes and can use the Panasonic 20mm for low light shots.

(5) Need to twist the camera settings to get the most out of it; the default settings are not tuned for the best image quality.

(6) Not really pocketable with the protruding lens, even with a small prime, but a non issue if you have been using DSLR.
Harvey W. Austin - Were you Born Now On Purpose or By Chance?A recent survey of 224 random people - from the checkout clerk at Home Depot to sunbathers on the beach of Aruba - asked a single question, "Do you believe you were born at this particular time On Purpose or By Chance?" Two thirds replied "On Purpose."

This Book is for those two thirds who answered "On Purpose", whether you know your purpose yet or not. If you believe that there are no coincidences, then you know that you - born around now, give or take fifty years - did not get here by some quirk. Instead, you are of the courageous who chose to arrive at the most dangerous and most exciting time the world has ever known. We are now at the time of The Shift from one worldview to another and each of us has a vital and unique role to play in that shift of humanity. It is not necessarily a role on the world stage, yet a role that naturally generates out of being wholly and uniquely ourselves ...uniquely me... uniquely you.

This book serves as a guideline to discover your purpose and role. It clarifies how you can fit into the overall scheme of things and it tells how to train yourself to be fully and completely yourself without the pretense and the act. It is a book about how to become extraordinary, no matter how ordinary you might feel inside or how ordinary the mirror lies that you are. This may be the book you have been looking for, especially in the quiet of the night, when you awaken and wonder what it's all about. And it will transform the resignation of "I'm just a single human being and what can one person do?"

It is a book about you and your greatness. At the same time...and more importantly... Barbara Marx Hubbard's book is about more than you as a walking ego, a mental-mind. It's about YOU in the largest sense, where the YOU is the entire world. It is also a map how to bring in a New Humanity - how to cross the gap from our present world of You OR Me to a world of You AND Me - a shift to a worldview of humanity creating its own future evolution and doing it consciously.

And it's about a celebration of the Birth Day of a new humanity, December 22, 2012 the day following the Mayan, Hopi, and other proclamations that the world shifts to a new era.

Barbara wrote most of the book and it is a fascinating true story how she, an ordinary housewife with five children, became what Neale Donald Walsch (Conversations with God) calls "The Mother of Invention". Marianne Williamson praises her - "Barbara Marx Hubbard is our undisputed planetary midwife."

There is a section of short powerful essays by each of the twelve members of the Welcoming Committee (like relatives gathering for the birth of a new human baby)... respected figures like Jean Houston, Lynne Twist, Lynn McTaggert and Jack Canfield. I found myself jumping to page 146 where Ervin Laszlo examines the horrendous consequences of humanity continuing a path of BUA... business as usual. Laslo offers a powerful alternative scenario he calls TT... timely transition. His essay put it into a clear perspective: Humanity shifts or humanity dies, becoming a failed species. And we have very little time.

The book is timely. The Birth Day of Dec 22 is eight months away and there is work to do.

It's all here for the Two Thirds - recommended readings, lists of affiliated organizations and allies, and lists of evolutionary Leaders and their web sites.

Once you read it, consider a Pay It Forward plan. Like me, you might wish to buy a few copies and send them on to certain people... and ask them to do the same.
R Shapiro "R Shapiro" - On Target With Activities - Fun To ReadCurrently wandering around Spain for a couple of weeks. Brought 2 guidebooks with me to make sure I had all the information possible to ensure a fun trip. I overpacked.
This was the only guidebook I needed.
Threw out the other guidebook after two days.
Well written and on target for fun things to try and great places to visit.
Don't know what other guidebooks he has written, but I will definitely be using them in the future.
Great guide.