Cyf-medical-distribution.ro Review:
CYF MEDICAL DISTRIBUTION - diagnostic veterinar, aparatura medicala, medicamente si produse biologice, instrumente medicale, consumabile, vetshop, petshop, specialisti veterinari
- cyf medical distribution, cyf, cyf medical division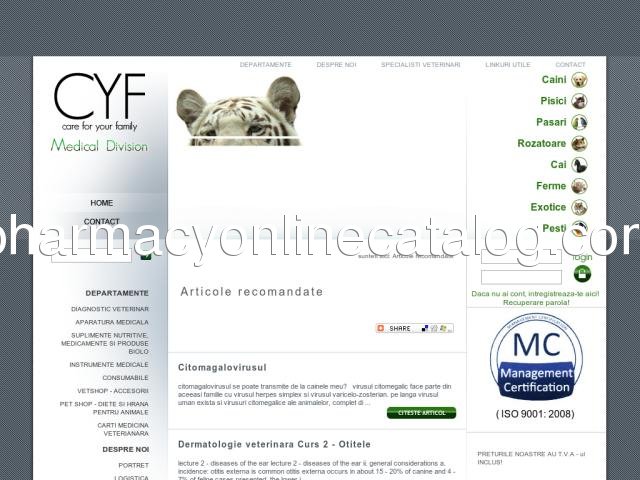 Country: Europe, RO, Romania
City: Braşov, Judetul Brasov
M. Johnson "May Seas" - Using it again...I used QB 10 years ago when I managed my own CPA firm. Now I'm using it as the treasurer for community non-profit organizations. Lots of new features, but I keep going back to using it like Quicken, mainly the check register, because I use Quicken for my personal record-keeping. Non-profits don't have vendors or customers or jobs, per se, so I'll tweak it a little to fit my needs. I like all my Intuit products - Quicken, QuickBooks and TurboTax. So easy to use!
Scott Ontiveroz - People still buy iPads?I can't imagine why someone would do that. I've had this same Galaxy tablet for almost a year now and I got this new one for my girlfriend. We both love it. She is in nursing school, and there are tons of apps available that are useful for that application.

If you don't know how to operate a tablet, get an iPad, that's for beginners.

If you want the best tablet money can buy, that is fully customizable and has tons of settings and features that you can adjust to your personal specifications, get a Samsung Galaxy Tab 2 10.1.
Natureboy - Strange But FunMy wife and I purchased this game yesterday on a whim to keep us occupied until the WoW Lich King expansion comes out. I have to say I'm pleasantly surprised by the game. Its lots of fun and very addicting.

However, if you are going to buy this game keep a few things in mind, 1) this is not an action game or an RPG game, its more like Age of Empires meets Sims (but without the extensive resource gathering of AOE), 2), don't expect this game to have anything to do with reality since there is nothing realistic about the stages of evolution either in the physical sense or the technological sense, 3) the game play is very simplistic, kill or be killed, the quests are along the lines of kill X number of enemies, or capture/ally with all the other cities, 4) character/vehicle/ building design is limited to a collection of preset feature options so you really can't create your own unique features for your civilization or give them unique attributes, just unique combinations, 5) your background environment is not adjustable so you can't change the conditions that the life develops under such as the gravity or the basis of life (silica or plasma energy based instead of carbon-based) or the type of food they eat (its only herbivore/ carnivore/ omnivore). Personally I would have liked to create something like an energy wraith that eats auras or life energy or something, but I guess thats asking too much from a simple Sims type computer game.

All that said, the game is great for hours of nearly mindless, relaxing entertainment with lots of pretty and interesting things to see and make. With the on-line sharing of player creations, other people's creations pop up in your universe so there's always something new to see or kill or destroy. Who knows, maybe at some point they will upgrade the game so you can actually interact with other players.
J. Shorter "Preiso" - A wonderful bookI'm almost done with this book. It is WONDERFUL. I loved looking up the information she cited about each item, and was very impressed. It was so sad to find out how much I didn't know about what I didn't know.

Besides being a beautiful woman, she's smart, entertaining, and challenging. While I've not always agreed with her, I think reading this book found much common ground between us. I've been sick of the left constantly drudging out racism every time I turn around, even though I don't find it happening in reality. I haven't talked with a racist since I was a child in the 80s, and that guy was a relative who's dead now. As far as I know, he was the last racist (against blacks) on Earth... And I agree with her that the racist issue is really the left pushing the whites' racism against blacks, in effect causing a more racist issue of blacks on whites - a sickening thing that I just do not tolerate; another reason I no longer listen/watch CNN. (I used to like watching Anderson 360... Now I'm embarrassed if I accidentally catch it flipping channels.)

Great job, Ann. I can't wait to get some of your older books and read those.
Lucas Hansen "liveSTRONG" - Great entry level racing bike!First, let me start by saying I've been dedicated to riding for 4 years now. In that time I've owned a schwinn prelude (was trying out the sport, horribly heavy bike though), a Trek 1.2 2011, and a 2011 Diamondback Podium 4. I can assure you the diamondback is way better than the entry level Trek. Now, as far as this bike goes, the Podium 3, it has a slightly more relaxed geometry than last years aluminum frames but only a little. Riding last years and this years you be hard pressed to say the previous model was better, in fact I think the opposite. I immediately felt a difference, for the better, as soon as I climbed on board the new road bike. When climbing, there seems to be more leverage or something. So, the bike rides well. The new color scheme has gotten me nothing but thumbs up and lot's of "what kind of bike is that?" and "where can I get one?". Also, the wheels though heavy, are perfect for training on, and look top notch! Aero rims combined with beefy white spokes, looks nothing but money! As for the components, well, I feel that the 105 5700 shifters and derailleurs work very well here. I constantly compare them back to back with my ultegra 6700 set I have on my Podium 4 and I have to say the ultegras are better, but not by a whole lot. All in all, this is a solid starting point for anyone just getting into the sport.