Buyzyprexawholesale.soup.io Review:
Order Low Price Zyprexa 2.5mg
- Zyprexa Buy Online In Canada. Verified Zyprexa Drug Store for Great Britain, United States, Poland, Philippines and all countries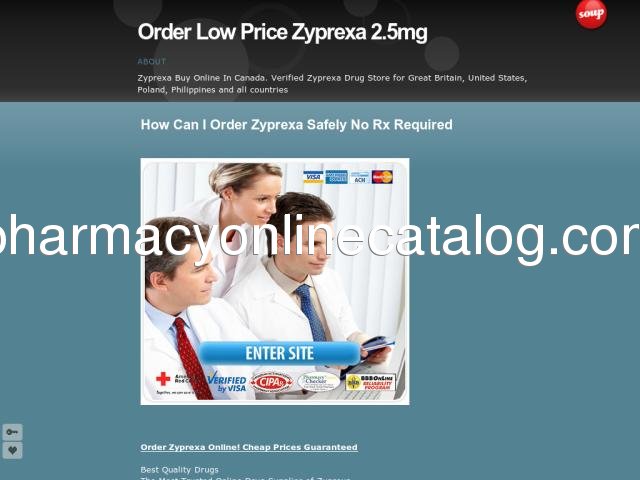 Country: Europe, AT, Austria
Laurie Phalen - AWESOME!! Can't live without it!!I ordered my 2010-2011 Family Desk Planner and can;t wait for it to arrive. I've been using the Mom's Family Desk Planner for 2 years and it's a lifesaver. I love the way each day is broken down and split into two. I can see what I have going on and what my 4 kids have going on. A must have for busy moms.
E. Johnson - Sensitive, 33 year-old skin is FINALLY acne free!!Quick summary: This is FANTASTIC. The only line of skin care that has worked for my skin. I can't believe I'm really acne-free. Here's the detailed version:

I'm a 33-year-old mother of 3 with pale, sensitive, oily, and acne-prone skin. I have had acne since I was a teenager. It's been bad. The one thing that worked for me was Aldactone. I used the as prescribed by a dermatologist along with birth control pills, as recommended. This was fantastic for my skin, but I don't like taking hormones or medicine in general. Obviously, they weren't an option when my husband and I decided to start a family. My acne came back with a vengeance. It was definitely hormonal with heavy whitehead breakouts monthly and zits all the time. The scarring was bad. Since my teenage years, I have tried probably close to a hundred different products without success, including Proactiv, Aveeno, Olay, Salacylic Acid, Retin-A, Clearasil, and Oxy clean, & Neutragena.

I came across these products (from Dan's Clear Skin Regimen CSR at Acne.org) a long time ago, but didn't try them. About 6 months ago, I decided to give it a go. I bought the Cleanser, Treatment & Moisturizer, & Jojoba oil to start, and decided to wait on the AHA+ as recommended. Also, I knew the AHA+ contained glycolic acid, which I thought my skin didn't like. (Based on other products with that ingredient.) So, I started the regimen following the application techniques that Dan recommends in his videos.

FIRST MONTH - starting with small amount of treatment & slowly ramping it up -
Morning: Cleanser, Olay Complete Moisturizer SPF 15 (w/ 2 drops of Jojoba oil), Avon Mineral Make-up
Evening: Cleanser (wait 15 mins- this is key!), Treatment (again wait 15 mins), Moisturizer mixed with a few drops of Jojoba oil.
Findings: I found that I didn't use as much moisturizer as Dan recommends when I mixed it with the oil. I think the oil really helped the flakes in the beginning. My face definitely dried out with fewer zits, but my pores felt clogged still and I still had a few zits pretty much all the time this first month.

SECOND MONTH - added AHA+
Morning: Cleanser, Olay Complete Moisturizer SPF 15 (w/ 2 drops of Jojoba oil), Avon Mineral Make-up
Evening: Cleanser (wait 15 mins), Treatment (again wait 15 mins), AHA+, Moisturizer mixed with a few drops of Jojoba oil.
Findings: I WAS IN PAIN!!! The AHA+ stung so bad, I thought I would cry. I toughed it out for about 2 weeks until I decided to try it in the morning instead. That helped SO much! (see below for routine). I think the stinging came from mixing the BP and AHA.

REVISED MONTHS 2-4 - Treatment at night & AHA+ in the morning
Morning: Cleanser, AHA+, Olay Complete Moisturizer, Avon Mineral Make-up
Evening: Cleanser, Treatment, Moisturizer mixed with a few drops of Jojoba oil.
Findings: I gradually saw my skin getting so clear, and no stinging!! I do have very sensitive skin. I used this regimen for a couple months, and it got to where I would have only 1 or 2 zits per month! Those zits would leave bad scars, which would make my skin look like I had more zits than I did. During the next month, I got lazy and stopped always waiting 15 minutes in between cleansing/treatment/moisturizing, & once I realized that the timing was key, went back to this final (and my current) regimen below.

TODAY'S REGIMEN (about 8 months after I started the CSR)
Morning: Cleanser, AHA+ (I skip this if I know I'm going to spend a lot of time outside), Olay Complete Moisturizer (I skip this if I know I'll be inside all day), Avon Mineral Make-up (optional, yay!)
Evening: Cleanser (wait 15 mins- this is key!), Treatment (again wait 15 mins), Moisturizer without Jojoba oil anymore--I don't need it!
Findings: I just can't believe that I finally have clear skin! I occasionally get an itty bitty zit, but it has been a couple months since that happened & it cleared up really fast with no scarring! My scars are fading, too. I'm just so excited about the CSR--and I hardly ever write reviews!

Here are my final thoughts on each of the products:
THE LINE AS A WHOLE: I love that it has the best ingredients, that it avoids fragrances and other irritating ingredients. I also like that Dan cares about limiting packaging and keeping the costs low!

CLEANSER: Love, Love, Love! It reminds me of all the good things about Cetaphil, but it actually FEELS like you're getting your face clean. I love how it bubbles up--unlike Cetaphil. Doesn't leave my skin overly dry

TREATMENT: Glides on easy. I don't actually use as much as Dan recommends, but that works for me. I use about the size of the top part of my index finger only once a day. I definitely wait until my face is totally dry after cleansing before applying. This DOES bleach fabrics, so I always take a white pillowcase with me when traveling to avoid bleaching someone else's pillowcase!

MOISTURIZER: This has taken me longer to love. I think I was using too much for my face early on, but Dan DOES recommend using a lot! It doesn't soak in quickly, which is the main reason I didn't like it at first. I've learned to really like it and my face definitely looks more vibrant in the morning when I use it the night before. I only use this at night since I find it to be a little too oily looking under make-up. I will keep buying it, but it lasts forever!

AHA+: Like I said above, this stung SO bad at first when I was applying right after the BP. Once I applied it on its own after cleansing, it hardly stings at all. Now I LOVE this! This is the key to my face now looking totally polished. It cleared up the flakes from the BP right away, and now I have such smooth, even, bright, and glowing skin. Yes, this sounds so cheesy, and when people would say this before, I never believed it could happen to ME! I really think my emerging wrinkles are lessoned, too. Perhaps it's even fading my scars?!?!

JOJOBA OIL: This worked well in the first month when I wasn't using the AHA+ to minimize the flakes. I really didn't like the packaging because it leaked oil all over my counter, and I'm glad I don't have to use it anymore!

Seriously, I want to tell everyone how well this worked for me, but I'm shy and don't want to make people with acne feel awkward by telling them to their faces. So, here is my review after months of totally clear skin: wow.